Skip to Content
Hardwood Floor Installation
We Offer Premium Floor Products in Annapolis, MD
It's time to rip up that ugly, coffee-stained carpet. Why keep those faded linoleum floors when the ends curl up from the wall? Gideon's Wood Floors offers a way for homeowners to introduce class and elegance to their home: premium hardwood floor installation. Annapolis homeowners have discovered the joys of beautiful hardwood floors for over 35 years, due to our professionalism and dedication to customer service. Installing hardwood floors is a delicate act. We know how to correctly measure the dimensions of your room and ensure no materials are wasted. We can install hardwood floors in irregularly-shaped studies just as easily as a large dining room. Our technicians are also skilled at working with you to determine that best wood variety for your house. Ditch the carpet and linoleum and come to Gideon's Wood Floors for a timeless flooring replacement.
Hardwood Floors Come in an Endless Variety of Styles and Grains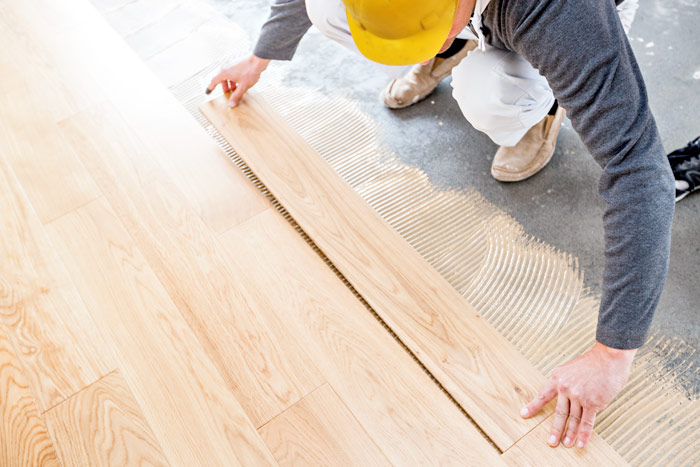 Gideon's Wood Floors understands when it comes to home improvement, you want options, and we're proud to offer them. Each of our customers is different from the next, and we carry styles for everyone. More importantly, hardwood floors might be timeless, but that doesn't mean they haven't evolved. We can install hardwood floors over radiant heating without damaging the hardwood, allowing you to enjoy more energy-efficient heating, in addition to luxurious wood floors. We offer a plethora of flooring options, including:
Prefinished floors that come pre-coated and sanded. Our workers can install prefinished flooring quickly, and without kicking up large amounts of dust.
Unfinished wood floors offer residents a rustic, mismatched look, and a surplus of customization options. Unfinished wood floors are a blank slate for you to apply your personal tastes.
Engineered wood is perfect for houses that rest on slabs because they are resistant to moisture. They're also great for households with children, as spilled milk and juice won't affect the vibrancy of the floors.
Eco-friendly hardwood floors allow environmentally-conscious residents to install gorgeous floors in their house while simultaneously reducing their impact on the environment.
We Expertly Sand and Finish Your Floors for a Polished Look
Sanding and refinishing are our specialties. Only years of experience allow hardwood floor installers to create pristine walking surfaces in your house. Equally art and science, our sanding and finishing is the final touch on your new floors. In addition to the precise attention to detail we pay to every facet of the job, including the final touches, we're also eco-conscious. We go to great lengths to reduce waste and work efficiently, and in an environmentally-friendly manner. To learn more about Gideon's Wood Floors, contact our office today.
Over 35 Years of Experience
Call Today for a Free Estimate